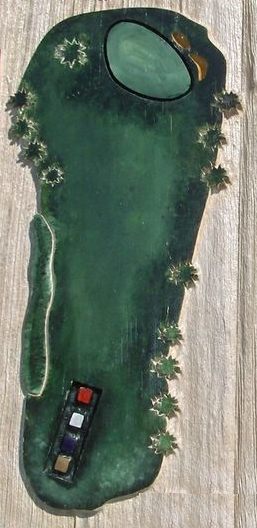 | | |
| --- | --- |
| GOLD | 343 |
| BLUE | 337 |
| WHITE | 331 |
| RED | 318 |

Hole 9 is all about the hill. There's even a periscope near the top to help you see that nobody is on the green for your approach shot.

Hitting down the left side of the fairway bypasses some of the hill but can leave you on an awkward side slope for your next shot.

Up by the periscope, the ground levels off making your shot into the green easier. If you can't see the green, members will tell you to aim for the Canadian flag. They claim that on that trajectory the ball will roll right down the throat onto the green.

The green is long and narrow with 2 sand traps on the right and a sharp drop off on the left.