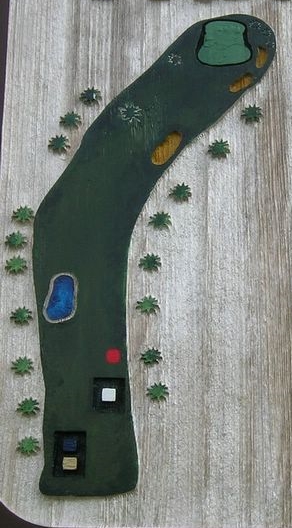 | | |
| --- | --- |
| GOLD | 483 |
| BLUE | 473 |
| WHITE | 412 |
| RED | 387 |

At last a par 5 where you can open up and let the ball fly!

Well maybe not. There are a few things to look out for as you go down the fairway.

First of all, there is a pond on the left full of bullrushes. If your ball goes in there, forget it.

There is a nice landing spot before the dog leg. Try to get as far left and long as possible but stop short of the trees.

It opens up again after the dog leg but then there is a badly battered cedar tree right in the middle of the fairway which can hinder your shot to the green if you get too close.

The green is long and narrow and protected on the left by a large maple. Keeping your ball on the green can be difficult because it is so narrow. But don't worry, there is a sand trap in back to catch your ball if you go too far.