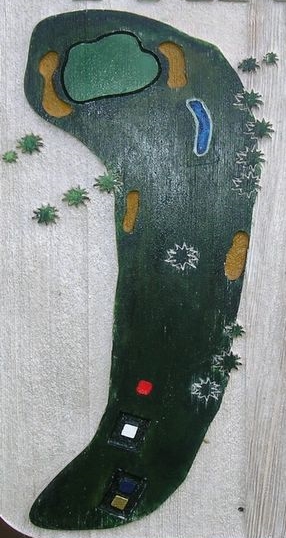 | | |
| --- | --- |
| GOLD | 392 |
| BLUE | 384 |
| WHITE | 328 |
| RED | 271 |

This is a long par 4 with a dog leg to the left and a number of obstacles along the way.

If you are teeing off from the reds you get to stand in the shade of a beautiful maple in the middle of the fairway. But if you're hitting from the blue or gold tees you have to get over, around or under that maple. Trying to go throught it doesn't work so well.

Once you're past the maple, there is a sand trap jutting out from the left awaiting you at the 150 marker where the fairway turns to the left.

Then at 75 yards, out there is a relaxing pond and fountain on the right which you may get to enjoy close up if your ball goes into it.

The green is elevated and guarded by sand traps on the left, right and rear.

No wonder this is the rated the toughest hole on the course.